Art.com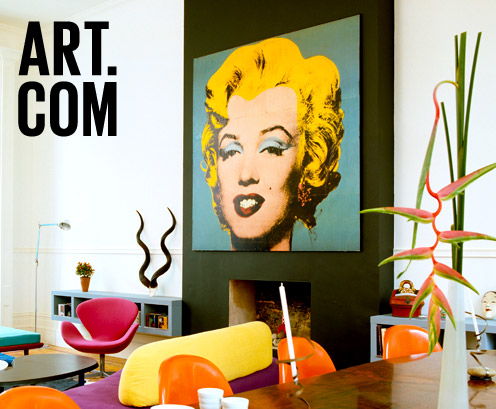 Art.com
exists to connect people to art they love. This means providing easy access to the world's largest selection of hand-picked art images and top-notch craftsmanship. From the moment you browse our site to the day your art is delivered, our team has one goal in mind: to delight you, every step of the way.
From Basquiat to Van Gogh and every style in between, Art.com features an unparalleled assortment of fine art, limited edition and exclusive pieces, specialty prints, tapestries, reproductions of contemporary originals, handpainted originals, photography, vintage art and more. Sophisticated mobile and visual search tools make it fun to explore Art.com's vast collection of more than one million works and preview artwork on your own walls.
Art.com makes it easy to create a beautiful finished product by offering a wide array of high-quality services, including custom framing, canvas transfers and wood mounting. Customers can choose from a variety of designer recommendations or create their own customized product via an easy-to-use, online interactive Frame Studio that provides thousands of custom framing options.
For the business customer, Art.com offers a WorkspaceArt Program designed to meet the distinct design and decorating needs of virtually any business, with free art consultations, fast turn-around and fulfillment, and online sourcing and ordering.
Art.com is also the provider of high-quality prints and framing services to the world's most well-known museums, including the British Museum, Museum of Modern Art NY, The Whitney Museum, San Francisco Modern Museum of Art and the deYoung Museum, among others.
Visit
Art.com
,
Art.co.uk
and
Art.fr
.